Moving a scientific research lab can be a daunting experience for a lab manager and all the lab personnel. From small equipment like roller drums to spectrophotometers to complete HPLC systems, labs must consider many issues when planning their lab move. In our experience, labs will secure the services of general movers for all their laboratory equipment from the smaller items to the larger, more sensitive pieces of equipment. These general movers may have years of commercial moving experience for equipment like printers, computers, monitors, and in many cases, laboratory research equipment. Spectrofuge is sure that these general movers can move the less critical and less sensitive equipment. In our experience, general movers have limited experience with the operations of the more sensitive laboratory research equipment like HPLC/FPLC systems, robotic imaging systems, centrifuges, and liquid scintillation counters. Spectrofuge does not advise that these general movers relocate your sensitive laboratory equipment. Improper preparation, transportation, and reinstallation of sensitive laboratory equipment can lead to damage to the equipment, expensive repairs, costly downtime of the equipment, and time-consuming insurance claims.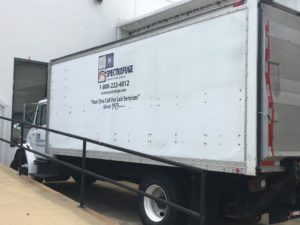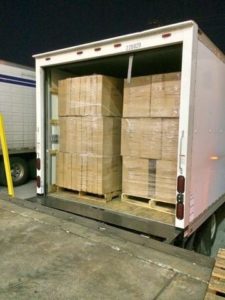 Spectrofuge Moving Truck
Spectrofuge, as an independent service provider, has been in the laboratory service business since 1975. Our service technicians have over 150 years combined experience in servicing laboratory equipment. Spectrofuge technicians can advise you as to which pieces of lab equipment can be moved by general movers and which need to be moved by our experienced team of service technicians. Our technicians know what can go wrong when sensitive lab equipment is not moved properly and carefully. Spectrofuge knows that a smooth relocation of the equipment from the old facility to the new is vital to keeping your research on track. When Spectrofuge technicians move your sensitive lab equipment you receive a full "turnkey" move experience. Spectrofuge can address all your concerns pertaining to moving your sensitive laboratory equipment: proper preparation, reliable and safe transportation, and in most cases, reinstallation of your lab equipment on the same day to provide an effortless transfer to your new facility. Through our experience we have learned the best questions to ask when planning a move, such as: "What are the expected dates of the move? Will there be adequate loading dock space? What is the estimate of the total value of equipment that is being moved?" Determining the answers to these questions prior to a move increases the smoothness of the transfer and prevents potential problems from arising at the time of the move. Spectrofuge has invested in the proper trucks, packaging materials, hydraulic lift carts, other moving equipment, and additional necessary resources to provide you with a safe and seamless moving experience. We will also secure the necessary liability and transit insurance to cover the value of your sensitive lab equipment. As a service provider for laboratory equipment for over 40 years, Spectrofuge is your "turnkey" professional for your sensitive laboratory equipment relocations. Please contact us at 919-361-2197 or at info@spectrofuge.com with questions about your upcoming laboratory relocation.
Spectrofuge Packaging of Sensitive Laboratory Equipment
Spectrofuge Customer Testimonial
"Wake Forest has relied on Spectrofuge for many of our service and repair needs for years, and they have always done great work and cared for our equipment well. So, when it was time to move 15 labs across town we knew they were the ones to call! As expected, they did a great job with all our instruments, from spectrophotometers and HPLCs to mass spectrometers."
Dr. Rebecca Alexander
Professor of Chemistry
F.M. Kirby Family Faculty Fellow
Wake Forest University