What Should I Consider When Thinking About Getting a Service Contract?
There are several factors you should consider when contemplating whether or not you want to buy a service contract for your laboratory equipment. One of the most important factors to think about is how important the piece of equipment is to the function of your lab. You should consider what would happen to your lab's productivity if this piece of equipment were to break down. Do you have equipment that can be used while the other is out of service? Will you able to wait weeks for the piece of equipment to be repaired? If the answer to either of these questions is "no", then you should seriously consider purchasing a service contract for your equipment. A service contract will ensure that you can have your equipment repaired in a timely manner so that you can continue your research.
Another important factor to consider when thinking about getting a service contract is cost. Service contracts typically include preventive maintenance programs that ensure productivity and decrease the chances of equipment failure. Having equipment that meets regulation compliances and is consistently working properly prevents any chance of lost revenue due to an inability to conduct your research. These service contracts that provide preventive maintenance also extend the life of laboratory equipment, which means you will be able to go for a longer period of time without having to buy new, expensive equipment.
Researchers working in their labs using their laboratory equipment
 What Are the Different Kinds of Service Contracts Available?
A company that offers service contracts will typically have two to three different options, from a basic plan to a more advanced option. A basic service contract will usually consist of an on-site visit by a technician or a preventive maintenance. More advanced contracts frequently include multiple on-site visits for repairs as well as preventive maintenance once or twice a year. Some service contracts include the costs for both labor and parts, while some contracts will only cover the cost of the labor. If you are considering what kind of service contract to purchase for a vital piece of equipment you should seriously look at getting an advanced, full-service contract that covers repairs and maintenance. This will ensure that you get your equipment back up and running in a timely manner so you can continue your research and productivity. These advanced contracts will also provide you with greater cost savings because they will cover the cost of labor and parts, which can save you 30%-50% in repairing your lab equipment. Most research organizations have service contracts in place for key pieces of equipment because the benefits of efficient and quick repair, and preventive maintenance outweigh any potential costs.
Service contracts vary with their terms and conditions, and what services are excluded. Please contact Spectrofuge for more information if you are interested in having a service contract with us.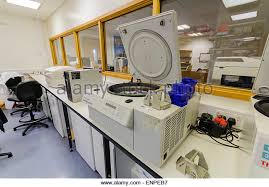 Research Equipment in a Laboratory