When Larry Autry, founder of Spectrofuge Corporation of NC, Inc. made the decision to start a third party laboratory equipment service company in 1975 he knew there would be obstacles to face.  As a small business competing with large manufacturers of centrifuges and other types of laboratory equipment, Spectrofuge had to find ways to obtain parts, service literature, service manuals, and technical support.  This is not as simple as just setting up an account with the manufacturers.  The equipment manufacturers were not very helpful with providing information to a third party service company that was going to be competing for their business.
Spectrofuge service technicians had to establish strong relationships with customers, and gain their trust and respect to work on their laboratory equipment.  Our service technicians have continued to maintain these strong customer relationships for over 40 years.  Spectrofuge service technicians realize that the equipment users have other options for servicing their equipment. Our customers deserve the best possible service at a reasonable cost.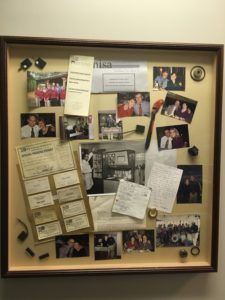 A Commemorative Board Celebrating the History of Spectrofuge
Other industries have faced these obstacles with major manufacturers, specifically the auto repair industry.  The "Motor Vehicle Owners' Right to Repair Act", sometimes referred to as "Right to Repair", is a name for several related bill proposals in the United States Congress and some state legislatures that would require automobile manufacturers to provide the same information to independent repair shops as they do for dealer shops.  Car manufacturers have resisted supplying parts, updates, and service information to independent auto service companies as a way to discourage their business operations.
The goal of the legislation as it was first introduced in 2001 was to end the unfair advantage of car manufacturers maintaining control over repair information that could result in independent companies turning away business due to lack of information.  Various versions of these bills exist today, but they have also faced opposition.
These are the same type of obstacles faced by independent laboratory equipment service companies.  Fair competition between equipment manufacturers and independent laboratory equipment service companies is impeded by the control that the manufacturers are trying to maintain over parts and service support.
Spectrofuge has worked very hard to maintain working relationships with various laboratory equipment manufacturers in order to obtain parts and service support.  Spectrofuge is also a member of a national organization of independent service companies, the National Independent Service Association (NISA), which allows for the sharing of information.  It also enables independent service companies to build a network of resources to address some of the issues faced by independent service companies.  Spectrofuge realizes that fair and equal competition makes for better business practices in order to give the customer the best possible service options at fair prices.