"That centrifuge is obsolete." "We no longer support that model spectrophotometer." "Parts for your laboratory shaker are no longer available." "The part you need for your scintillation counter has been discontinued and there is not a replacement." In the laboratory equipment service world, these statements are very common, and seem to occur more and more frequently. In fact, you may have been told this about a centrifuge or an incubator that you purchased just 10 years ago or less. As technology changes, advances in R&D are discovered and instrumentation design is improved, and the equipment manufacturers phase out instrumentation faster and faster to make room for sales of the newer models.
If you talk to the actual laboratory equipment users, however, and get their feedback, you will find that they like their "older" laboratory equipment. The laboratory equipment users understand the operations of the equipment, they have all the necessary rotors for the centrifuges, the lab protocols are set up for running assays on the "old" scintillation counter, the "old" laboratory shaker is a workhorse and can run for days, and the lab does not have to allocate precious research dollars for new equipment.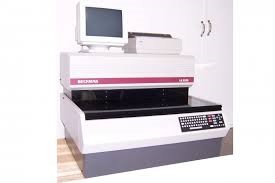 Liquid Scintillation Counter
Spectrofuge Corporation of NC, Inc. prides itself in its commitment and ability to maintain older laboratory equipment that has reached its end of life with the manufacturer. Spectrofuge has been dedicated to this commitment for over 40 years. We have found several ways over the years to maintain this commitment.
Spectrofuge technicians have put in hours of research, phone calls, and testing in order to identify the original parts used in many pieces of laboratory equipment. Circuit breakers, lamps, motor brushes, fans, and electronic parts are used in all types of laboratory research equipment, but the manufacturer of the equipment does not make those replacement parts. Spectrofuge technicians have been able to troubleshoot specific instrument operational problems down to these component levels. Then,the technicians have been able to source the original parts to the original suppliers, saving the customer money, as well as prolonging the life of the instrument which has been "obsoleted" by the OEM.
Common Parts Used in Laboratory Research Equipment
Spectrofuge also purchases previously owned laboratory equipment from equipment auctions, laboratory equipment resellers, surplus warehouses, labs that are going out of business, and other equipment sources. Spectrofuge has found that we can extend the life of many types of laboratory equipment with parts from these previously owned units. We also offer our customers the option of purchasing previously owned laboratory equipment that we have carefully refurbished and restored. For example, a customer has a floor model refrigerated centrifuge that is beyond economical repair. Spectrofuge can offer them the same model or compatible model centrifuge at a major savings to the customer, saving them from purchasing a new centrifuge for $50k to $60K. Plus, the customer can use their same rotors, which also saves them money.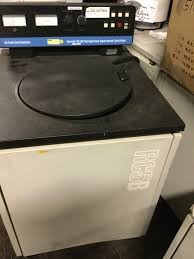 Refrigerated Floor Model Centrifuge
If you have questions about your older laboratory research equipment and would like to discuss options for repairing and maintaining that equipment, Spectrofuge technicians would be glad to speak with you about the options. With over 41 years in the laboratory equipment service industry, Spectrofuge can assist you with making informed and smart decisions about your equipment needs so that you can focus on the most important task at hand, your research.